What do I need?
At least one bicycle with Power Meter (but we can start without it)
Bike computer (we like Wahoo and Karoo2, but Garmin is ok too…)
Heart Rate Monitor strap
Intervals.icu free account
Indoor (smart) trainer (optional)
Strava, Garmin Connect or Zwift account (optional)
Bicycle and Power Meter
Of course you need more than one bike, but you really need at least one…
There are many options for power meters and prices have been coming down.
Single sided power meters (like the Stages) are fine and usually a bit cheaper. Stages sometimes offers Closeouts / Cosmetic Blems at a lower price. QuarQ has the highest quality product although at a higher price point.
Recently Garmin released the Rally pedals, you can buy the single sided in SPDs and swap it around different bikes.
The best buyer guide online is from DC Rainmaker: if you have the time is a worthy read.
Bike Computer
There used to be only one brand but nowadays we have lots of options. Our all time favorite is the Wahoo Bolt, recently updated with color display. It's a small and sleek little unit that does everything you need.
Garmin is surely not a favorite here, but it integrates well with Intervals.icu (our planning tool of choice) and allows to import structured workouts directly to the head unit.
Q: Can I use my smartphone?
A: Sure you can: but in most cases you will want to have something on your handlebar to follow the workout or keep an eye on HR and Watts. If you're using your smart phone as bike computer we recommend the Wahoo Fitness App. It pairs seamlessly with your Bluetooth compatible sensors such as power meter and HR and allows you to upload your ride on multiple platforms at once.
Other options include the Strava app (but doesn't pair with power meters)
HR monitor strap
Tons of options here too: you would want something that has both Ant+ and Bluetooth standards (most straps do) so that you can use it also for running/gym together with your smartphone
Our all time favorite is the 4iiii Viiiiva HR Monitor: (yes they got lots of 'i' in there but the product is solid). The Viiiiva stores your workout in the unit itself. This means that if your Garmin craps out you can still extract the .fit file from the strap and save the day.
Another good option and slightly cheaper is the Wahoo TICKR, you can get it quickly from Amazon.
Q: I don't like to wear a chest strap, what else can I use?
A: There's a number of optical HR monitors that can be worn on your arm, like the Wahoo TICKR FIT or Scosche Rhythm. On the plus side some of these have rechargeable battery, so no more messing around with coin cell batteries.
Q: Can I use my Apple Watch?
You can, possibly using Strava app. The quality of signal and sample rate are inferior to a regular HR strap.
Online ACCOUNTS
Intervals.ICU
This is the new kid on the block, quickly growing in popularity. It has a sleek and simple interface and allows you to check your progress and activities pretty much from any device.
The account is free, but donations are highly encouraged.
You can create your own workouts, connect with Garmin Connect, Strava and even chat with a lively community in the forum.
Follow this link and sign up online for your free account.
Don't worry about filling up all the info about training zones etc, we'll take care of that later.
Once you're all set up click on this link to connect.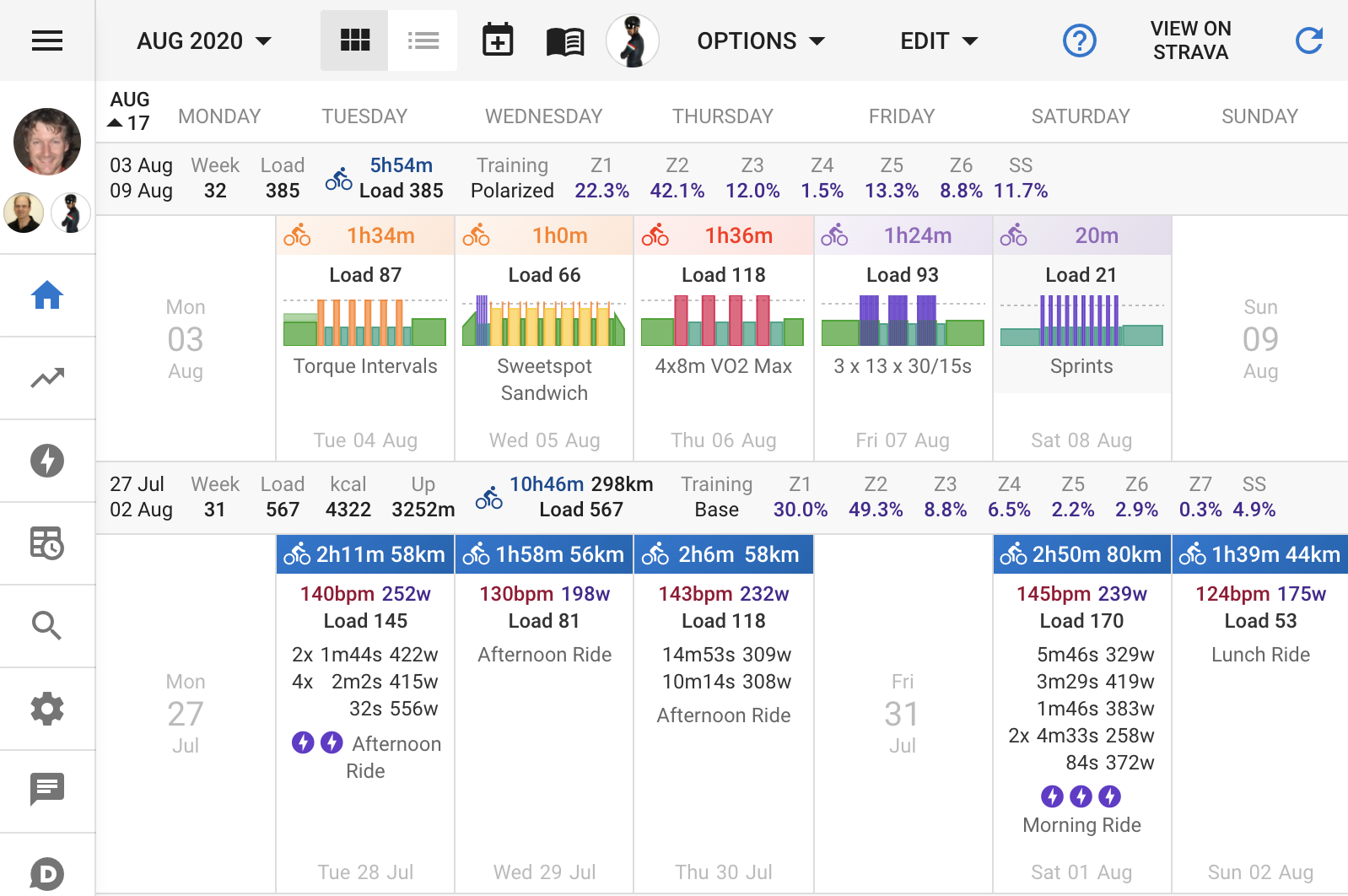 This is the tool we use to analyze performance, fitness and prescribe workouts.
Strava
This is not really needed, but highly recommended: Strava syncs directly with Intervals.icu, so all your data gets there
Seeing your times improving on the same segment can be very motivating. Sign up and create a free account on Strava
Once you have an account, connect it to your Intervals.icu account from the settings tab. If you have a Garmin connect account do the same, but don't select 'sync' if you are also pushing workouts there.
Zwift
This is highly recommended for making your indoor trainer experience more bearable. Zwift is a virtual reality game where you ride with other riders from all other the world. If you have a "smart trainer" the pedaling resistance will adjust based on the grade you are riding. The key feature for us is that TrainingPeaks workouts can sync automatically to Zwift. This means you can easily (not painlessly) do your indoor workouts.
Zwift has a monthly fee of $14.99
Indoor Smart Trainer
Another area with countless options. One good starting point is DC Rainmaker Annual Recommendation Guide.
Our favorites are the Wahoo KICKR and SNAP. If you already have a power meter on your bike you can actually save and just buy a regular trainer, much cheaper these days. You won't be able to do virtual rides on Zwift, but can still do the online workouts.